Recorded on Thu 1 Dec 2022
Content creation is a tango between writers, stakeholders and your target market. It requires precision, passion and coordination, so grab your 'hypothetical' dancing shoes and join us as we learn the steps with Emanuel Diaz.
Emanuel will be focusing on how to create stories that matter in higher education. Every piece of content should be emotive in some way, have meaning, be socially responsible and authentic. He'll be covering:
How to get inspired by your past, people and purpose
How to align content with your vision that the audience care about
How to provide a unique insight that empowers your audience to make decisions
How to balance emotion with stakeholders
And most importantly...how to rebel against the same old content!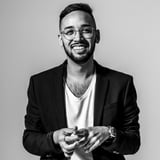 Emanuel Diaz, Head of Content Marketing, IE University. Emanuel lives for a good story to weave, so he describes himself as a storytelling lover and aficionado. His passion for content started in the banking industry in his native Puerto Rico, where he was leading copy and digital marketing for the institution. The challenge of making a bank soulful caught him. A Fulbright grant took him to Madrid to study at IE, where he stayed as the Associate Director of Alumni Communications. Emanuel has a passion for creativity, emotional content, and weaving stories that showcase the beauty of working in the educational sector. He is also a proud collaborator in LGBTQ+ initiatives and does improv theatre in his free time.