Recorded on

Thurs 26 Nov

2020
UKRI Policies for Doctoral Training - All you need to know
Presented by Robert Hardwick, Head of Research and Innovation Skills, BBSRC
In the context of PGR recruitment, Rob explored developments surrounding international student eligibility for UKRI stipends and home fee awards, and support for UKRI funded students impacted by Covid-19.
How much? The value of the UK Doctoral Loan in PGR Marketing
Presented by Mark Bennett, Head of Content, FindAUniversity
Mark explored the opportunities and challenges posed by the UK Doctoral Loan, a relatively new student finance option, and suggested ways to build engaging marketing and recruitment around it.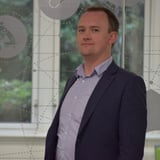 Rob Hardwick, Head of Research and Innovation Skills, BBSRC, is the Head of Skills at BBSRC has strategic and operational oversight of BBSRC's investments into doctoral training, working closely with the academic and industrial bioscience research communities, the UKRI Councils and other stakeholders. Prior to this, Rob completed his PhD and five years as a postdoctoral researcher in genetics.
Dr Mark Bennett is Head of Content at FindAUniversity, with overall responsibility for the information, advice and guidance students find on our websites. He regularly engages with prospective students' funding queries and has presented on postgraduate funding, experiences and IAG at events organised by Westminster Forum, UKCGE and HELOA.