Recorded on Wed 28 Jun 2023
Key topics:
Understanding the evolution of university prospectuses: Examine the changing styles, formats, and content of prospectuses, as well as the factors that have influenced these changes. This knowledge will provide you with a solid foundation for considering the future possibilities of university prospectuses.


Knowledge of emerging trends and examples: You will learn about emerging trends in university prospectus development and see examples of how universities are reimagining these documents. We'll look at innovative approaches to prospectus design and the incorporation of new technologies, as well as changes in the types of information that are included in prospectuses. This will inspire you to consider new and creative ways to communicate information to prospective students.


Insights into future possibilities: You will leave with a clearer understanding of how university prospectuses could continue to evolve in the future, as well as the potential impact this could have on the higher education industry.
Presented by Nathan Monk, Co-founder of SMILE & Prospectus+ this webinar covered the history of postgraduate prospectuses and spotlighted emerging trends and strategies tailored for a postgraduate audience. We discussed the rise of the digital prospectuses, their importance in attracting postgraduate students and challenging the conventional notion of prospectuses. Through real-world examples and case studies we explored how interactive digital experiences can drive enrolment.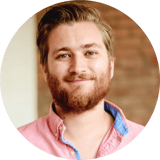 Nathan Monk, Co-founder of SMILE & Prospectus+, has 15+ years in digital marketing and web design. Renowned for developing website strategies for universities and contributions to HEIST award-winning projects. He also hosts the Most Clicked podcast and frequently shares insights at conferences.