Recorded on Tue 15 Nov 2022
Expanding on the session first delivered at FindAUniversity's Marketing Conference in September, this webinar will further explore the reasons for minimal ethnic minority students progressing into PGR education in England.
Based on interviews with ethnic minority postgraduate taught students in England, Reena's small-scale study primarily examines their perceptions of progressing into postgraduate research education and highlights where we need to further increase awareness and support of PGR routes and opportunities.
As highlighted previously, in England, the data available suggests home-based ethnic minority students are disproportionately represented at undergraduate level and whilst some do progress into postgraduate study, when the data is disaggregated it is more likely they have undertaken a PGT course and do not stay on for PGR study.
Based on Reena's research findings, this session will focus on the quotes from her research and what this could potentially mean for practitioners aiming to widen access and increase participation in postgraduate study.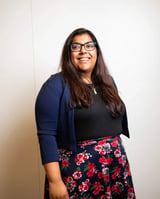 Reena Kaur, Student Recruitment and Access Officer, Keele University. Reena is currently a Student Recruitment and Access Officer at Keele University and recently completed her MA in Education and Social Justice where she has researched the lack of ethnic minority students progressing into Postgraduate Research study. She has previously held posts at University of Gloucestershire, Edge Hill University, University of Leicester, and University of Reading, primarily focusing on Widening Participation. Within her roles, she is dedicated to helping students make informed choices about their educational journey drawing on her own experiences as a student who met multiple WP criteria. In addition to her roles in HE, Reena also volunteers with HELOA, running training events for HE professionals student facing roles such as Student Recruitment, Access, Widening Participation and Marketing.